Exact Moment of the April FULL MOON, will be on Tuesday April 11, 2017 at 12:09am Central, or 10:09pm Monday Pacific Time. but for sure the Full Moon Window will be running into Wednesday at least a little ways, anyways. For sure the added pull of the April Full Moon will be in effect all through the day on Tuesday if this edition winds up being for Tuesday publication! Lots of apparent shaking is going on, too, with Texas, Arkansas, Illinois, and Missouri just one part of it! Check out this very official report from Philippines where they keep shaking under the full moon. . . and my phone keeps ringing with more and more earthquakes there:
== PRELIMINARY EARTHQUAKE REPORT ==
Region: MINDORO, PHILIPPINES
Magnitude: 5.9
Depth: 42 km
Universal Time (UTC): 8 Apr 2017 07:09:27
Time near the Epicenter: 8 Apr 2017 15:09:27
Local standard time in your area: 8 Apr 2017 01:09
Location with respect to nearby cities:
8 Miles WSW of Batangas, Luzon, Philippines
28 Miles NW of Calapan, Mindoro, Philippines
62 Miles South of MANILA, Philippines
This Weeks Big Botswana "Earthquake Minute", CLICK Arrow: Botswana "Earthquake Minute" at YouTube@
https://youtu.be/fa6Quv57Vzc
And The Transcript@
http://earthquakealert3.blogspot.com/2017/04/big-botswana-earthquake-minute-for.html
Congratulations The EQ Guy!!!!! Was awarded this here thing, and looks pretty fancy!!! Thought you all might like to see it, too!!!!!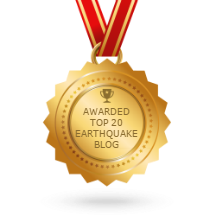 AND. . .Thank-You, Whoever Sent It To ME!!!
You'll have to go back to yesterdays EQ Blog to see where all the earthquakes at Philippines started, but as I guessed they certainly picked up as the full moon set in!!! Here's just the ones from late Monday:
5.1 145km ESE of Pondaguitan, Philippines 2017-04-10 21:50
4.3 4km SSW of Kinangan, Philippines 2017-04-10 14:16
4.4 134km SE of Pondaguitan, Philippines 2017-04-10 09:31
4.6 134km SE of Pondaguitan, Philippines 2017-04-10 09:17
And here's that chain of small earthquakes like I can't say I've ever seen across Texas, Oklahoma, Arkansas, and Tennessee/Missouri:
1.8 28km SSE of Kissee Mills, Missouri 2017-04-10 05:51
1.4 9km SSE of Ridgely, Tennessee 2017-04-10 02:09
1.3 16km NNW of Greenbrier, Arkansas 2017-04-09 21:56
2.9 38km SE of Pecos, Texas 2017-04-09 20:18
2.0 2km NNE of Cushing, Oklahoma 2017-04-09 20:05
3.1 27km NE of Cherokee, Oklahoma 2017-04-09 17:08
Here's another story about Fracking in Botswana@
https://www.theguardian.com/environment/2015/dec/02/botswana-sells-fracking-rights-in-national-park
AND this one connects fracking to earthquakes at Botswana@
http://thezimbabwemail.com/research-papers-38636-did-us-oil-fracking-in-botswana-cause-earthquake-in-southern-africa.html
THERE Is one more with a Documentary that I'm chekcing out and will report on later!!!!!
Posting this one just so you can take a look at the list of nearby places! COULD this be a Major Epicenter in the near future???
2.2 - 3km S of Lake Forest, CA 2017-04-10 13:44
Nearby Places:
Lake Forest, CA 3.0 km (1.9 mi) S
Mission Viejo, CA 3.0 km (1.9 mi) NNW
Laguna Hills, CA 3.0 km (1.9 mi) NNE
So, the Full Moon would be high overhead but for overcast sky here, and exact moment will be sometime around midnight depending on what time zone you're in. Therefore the full moon window will continue on for about 24 hours past that early morning Tuesday Hour and onwards to that same hour on early Wednesday, right? Of course we'll then continue to watch just a few more hours into the day on Wednesday to see if there will be any major effects of the pull of the full moon! EQ Guy
Some of My Best Earthquake Stuff can be found in My E-Book, "Bringing Earthquakes To Life" @
http://www.eqalert2.blogspot.com
Thank-You For Reading!!! EQ Guy